To make pot magnets used in more special conditions, people often need to make rubber coated on pot magnets, so that rubber coated pot magnets appeared on the magnetic products market and used more and more as a magnetic base or magnetic holder.
Rubber coated magnetic base called rubber coated holding magnet or rubber coated magnetic holder, even just called as rubber coated magnets shortly.
On this page, we show different types of rubber coated magnetic base, all of them are assembled with powerful neodymium magnets. For bigger rubber coated magnetic base, even assembled with several disc neodymium magnets in it. So that the whole rubber coated magnet is a well designed magnetic system.With several separate strong magnet discs fixed onto the steel plate, the magnetic force is stronger.And it can holder more weight than normal pot magnets.
Rubber coated magnet components
The technical problem to be solved by the rubber coated magnet components are to provide amagnetic base with strong suction and without damaging the magnet and the adsorbed metal surface.
In order to solve the above problems, the rubber coated magnetic base that comprises a rubber injection bottom bracket, a metal stamping part, a rubber injection top cover and a NdFeB magnet, wherein the metal stamping part is arranged between the rubber injection bottom bracket and the rubber injection top cover, and the NdFeB magnet is arranged between the rubber injection bottom bracket and the metal stamping part.
The rubber injection bottom bracket in the magnetic rubber coated magnetic base comprises a boss and a base, the boss is arranged above the base, and the diameter of the boss is smaller than that of the base. The boss is provided with a plurality of first concave holes for accommodating the NdFeB magnet.


Uses of Rubber Coated Magnetic Base
By using the magnetic base with rubber coated,the rubber coating isolate the NdFeB magnet from the adsorption surface during use. When the rubber coated magnetic bases are used, the strong adsorption of the magnet will be buffered by the rubber at the bottom, so as to protect the surface layer of the magnet and metal adsorption surface. The softness of the rubber increases the friction of the contact surface of the rubber coated magnetic base, which makes the tension of the rubber coated magnetic base stronger, and will not cause scratches on the surface of the adsorption surface due to the sliding of the base.


The Manufacturing Process of Rubber-Coated Magnets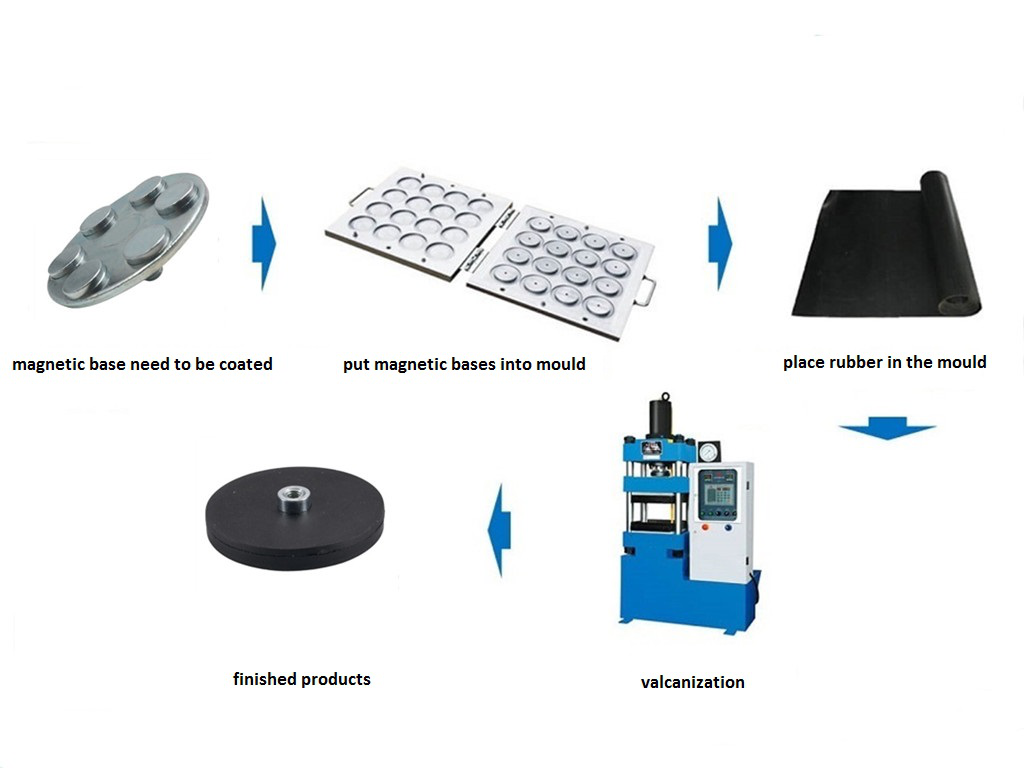 For rubber coated magnets, vulcanization is the key step in the whole manufacturing process. The chemical method to convert rubber into a more durable material by adding sulfur or other equivalent vulcanizing agent or accelerator is vulcanization At a certain pressure and temperature, these additives change the rubber by forming crosslinks between the chains.