Permanent magnetic chuck is also called magnetic chuck, it is widely used as the magnetic clamp in the machining field, such as machinery factory, mold factory. It can greatly improve the efficiency of guide magnetic clamping steel material. Permanent magnetic chuck uses high-performance NdFeB rare earth materials (N > 40) as the kernel, by turning the handle on the chuck, thereby changing the internal NdFeB magnetic system of suction up, achieves holding and release on the processed workpieces.
The application of permanent magnetic chucks:
Th permanent magnetic chucks can be used as an auxiliary tool for all kinds of surface grinding machines, universal tools, grinding machines and lathes, etc., to absorb ferromagnetic materials. The permanent magnetic chuck has the advantages of no power supply, no heating, small deformation, high precision and wide application range. According to its structure, it can be divided into rectangle permanent magnetic chuck and circular permanent magnetic chuck. For circular permanent magnetic chuck, there are different pole structures, such as straight bar, close pole, ordinary pole and radial pole. Permanent magnetic chucks are applicable to grinding machines, lathes, fitter lines, etc., the magnetic material of the suction process, suction up to 100N/cm2.
Rectangular permanent magnetic chucks are suitable for lathe machines, grinding machines and milling machine, EDM, etc.
Round permanent magnetic chuck or circular permanent magnetic chuck is suitable for fixed lathe machine, cylindrical grinder and milling machine.
The usage method of permanent magnetic chucks:
1. Put the workpiece onto chuck table, then insert the wrench into the shaft hole and turn clockwise direction 180 to "ON", then the magnetic chuck can hold the workpiece to process.
2. After the workpiece is finished, the wrench is inserted into the axle hole and rotates 180 to "OFF" counterclockwise, so that the workpiece can be removed.
Maintenance of permanent magnetic chucks:
1. The surface of permanent magnetic chucks should be wiped off before use so as not to be scratched and affect the accuracy
2. Use ambient temperature at -40C--50C, no percussion, in case the magnetism of permanent magnetic chuck is lowered
3. After use, the work surface of permanent magnetic chuck should be painted with anti-rust oil to prevent corrosion
The features of permanent magnetic chuck:
1. When the magnetic circuit is switched, the accuracy of the magnetic force on the surface of the permanent magnetic chucks can not be changed, thus ensuring the high precision of the processing
2. Can be mounted on a rotary grinder
3. Suitable for small thin workpiece precision grinding
4. Large suction, and low residual magnetism
5. To enhance the grinding of thin workpieces
6. Adjust magnetic intensity
7. Sealing structure, waterproof and coolant
8. Easy to operate
Rectangle Permanent Magnetic Chucks: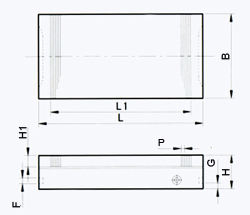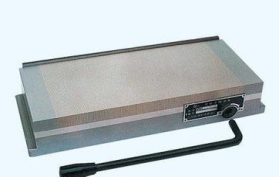 Item Code

B Width

L Length

Effective
Length

H Height

H1 Top plate height

F

G

Pole Pitch

Net Weight

PMCR-1018

100

175

145

52

20

10

10

1+3

8

PMCR-1325

125

250

213

52

20

10

10

1+3

14

PMCR-1515

150

150

117

52

20

10

10

1+3

9

PMCR-1530

150

300

257

60

23

10

10

1+3

21

PMCR-1535

150

350

305

60

23

10

10

1+3

25

PMCR-1540

150

400

357

60

23

10

10

1+3

28

PMCR-1545

150

450

405

60

23

10

10

1+3

32

PMCR-2030

200

300

257

60

23

10

10

1+3

28

PMCR-2035

200

350

305

60

23

10

10

1+3

33

PMCR-2040

200

400

357

60

23

10

10

1+3

37

PMCR-2045

200

450

405

60

23

10

10

1+3

43

PMCR-2050

200

500

457

60

23

10

10

1+3

53

PMCR-2063

200

630

585

60

23

10

10

1+3

69

PMCR-2535

250

350

305

60

23

10

10

1+3

47

PMCR-2540

250

400

357

60

23

10

10

1+3

53

PMCR-2563

250

630

585

60

23

10

10

1+3

86
Circular/Round Permanent Magnetic Chucks: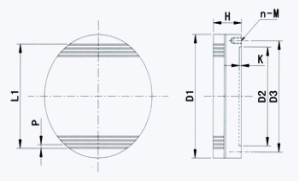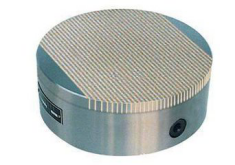 Item Code

Diameter

Effective
Length

Height

Pole Pitch

D2

K

N

M

D3

Net Weight

PMCC-150

150

117

50

1+3

110

4

4

8

132

7

PMCC-160

160

129

50

1+3

120

4

4

10

140

8

PMCC-200

200

169

52

1+3

160

4

4

10

180

12

PMCC-250

250

213

52

1+3

200

4

4

10

230

19

PMCC-300

300

265

54

1+3

250

4

4

12

280

28

PMCC-400

400

365

58

1+3

320

4

4

12

380

53

PMCC-600

600

553

62

1+3

500

4

4

12

580

134