Flat pot magnet usually means pot magnets without any thread or holes, just assembled with disc magnet and simple steel shell/cup.The flat pot magnets used NdFeB magnets are called NdFeB flat pot magnets, and ferrite flat pot magnets(ceramic flat pot magnets)adopt ferrite/ceramic magnets.
The sizes of our ferrite flat pot magnets are available in diameter from 10mm to 125mm, and magnetic performance up to 130kgs for pull force. These flat round holding magnets make it possible to attract heavy objects safely to any metal surface
.
The magnetic holding force is strong and permanent which will never lose even used several years.
Those ferrite flat pot magnets are composed of anisotropic ferrite magnets and steel cup. Our ferrite flat magnets maybe even stronger! The below table is our standard models of ferrite pot magnets. The magnetic core is a strong disc ferrite magnet built in a steel pot.The steel pot/cup can be made with chrome plated, nickel plated, zinc coated and paint coated, even rubber coated.The steel pot not only keep the magnet safe from damages but also make the magnetic force higher! Because of the steel shell, there is only one magnetic surface that used for working, the optimal surface is steel and iron. That's why it could be called as mono pole magnets. If you want super strong flat pot magnets, we suggest our neodymium flat pot magnets
The whole magnets assembly are the ideal product for sale displays, exhibition displays and marketing displays. Maximum working temperature of ferrite flat holding magnets is 200 degrees.
Special feature: these flat pot magnets can not be fixed or mounted using screws. For this reason, we suggest to place and glue them in a drilled pilot hole and can be used at a temperature up to 200℃.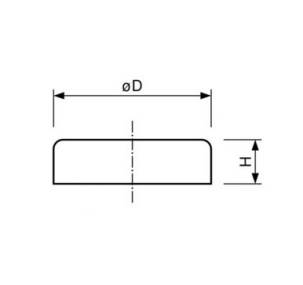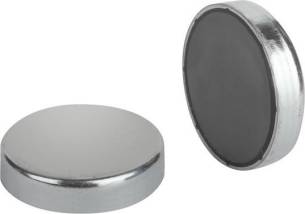 | | | | | | |
| --- | --- | --- | --- | --- | --- |
| Items Code | D mm | H mm | Force-N | Weight g | Temperature℃ |
| FFPOT-D10 | 10+0.1/-0.1 | 4.5+0.2/-0.1 | 4 | 2 | 200 |
| FFPOT-D13 | 13+0.1/-0.1 | 4.5+0.2/-0.1 | 10 | 3 | 200 |
| FFPOT-D16 | 16+0.1/-0.1 | 4.5+0.2/-0.1 | 18 | 5 | 200 |
| FFPOT-D20 | 20+0.1/-0.1 | 6+0.2/-0.1 | 30 | 10 | 200 |
| FFPOT-D25 | 25+0.1/-0.1 | 7+0.3/-0.2 | 40 | 18 | 200 |
| FFPOT-D32 | 32+0.1/-0.1 | 7+0.3/-0.2 | 80 | 29 | 200 |
| FFPOT-D36 | 36+0.2/-0.1 | 7.7+0.3/-0.2 | 100 | 39 | 200 |
| FFPOT-D40 | 40+0.2/-0.1 | 8+0.4/-0.2 | 125 | 55 | 200 |
| FFPOT-D47 | 47+0.2/-0.1 | 9+0.5/-0.2 | 180 | 84 | 200 |
| FFPOT-D50 | 50+0.2/-0.1 | 10+0.5/-0.2 | 220 | 102 | 200 |
| FFPOT-D57 | 57+0.2/-0.1 | 10.5+0.5/-0.2 | 280 | 141 | 200 |
| FFPOT-D63 | 63+0.3/-0.1 | 14+0.5/-0.2 | 350 | 226 | 200 |
| FFPOT-D80 | 80+0.3/-0.1 | 18+0.5/-0.2 | 600 | 468 | 200 |
| FFPOT-D100 | 100+0.5/-0.1 | 22+0.5/-0.2 | 900 | 915 | 200 |
| FFPOT-D125 | 125+0.5/-0.1 | 26+0.5/-0.2 | 1300 | 1680 | 200 |