Channel Magnets, Neodymium channel magnets, channel holding magnets, NdFeB magnets channels, Ferrite channel magnets, ferrite magnet channels
As a kind of special pot magnets, channel magnets are square and strip shaped. Channel magnets are mainly used as magnetic bases to hold metal objects. So countersunk holes are necessary for the channel magnets,with the countersunk hole, the channel magnets can be fixed onto walls and other things by the screw. For the small channel magnets, they compose of block neodymium magnets with countersunk holes and steel channel. For the big channel magnets, just fix common NdFeB block magnets into the steel channels, the screw holes are just made on two ends of the steel channels.
According to the magnet material used on the channel magnets, we have neodymium channel magnets and ferrite channel magnets /ceramic channel magnets available. Both of them are used as holding magnets or magnetic holders. The neodymium channel holding magnets are used when more magnetic force needed, while ferrite channel holding magnets are used when less magnetic force needed.
The long channel magnets can be fixed onto the wall and used as magnetic tools holder, many metal tools can be held on one channel magnet at the same time. As a magnetic holder, channel magnets are very useful magnetic products. They can be used in kitchen and repair shop, and make these place tidy.
Our channel magnets are powerful enough and durable, which have perfect public praise on the market. We sincerely hope our channel magnets serve more and more people.
Neodymium U/C-channel screw-on magnets with single(one) countersunk mounting hole: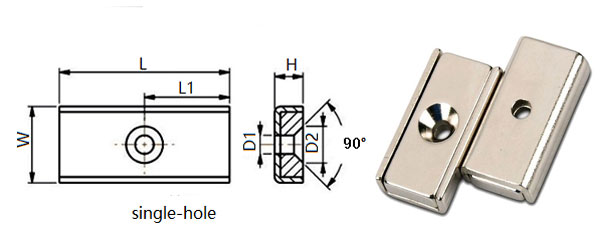 | | | | | | | | |
| --- | --- | --- | --- | --- | --- | --- | --- |
| Item Code | L(mm) | L1(mm) | W(mm) | H(mm) | D1(mm) | D2(mm) | Force(KG) |
| NEOCM-10 | 10 | 5 | 13.5 | 5 | 3.3 | 6.5 | 4 |
| NEOCM-15 | 15 | 7.5 | 13.5 | 5 | 3.3 | 6.5 | 7 |
| NEOCM-20 | 20 | 10 | 13.5 | 5 | 3.3 | 6.5 | 8 |
| NEOCM-30 | 30 | 15 | 13.5 | 5 | 3.3 | 6.5 | 16 |
Neodymium U/C-channel screw-on magnets with double(two) countersunk mounting holes: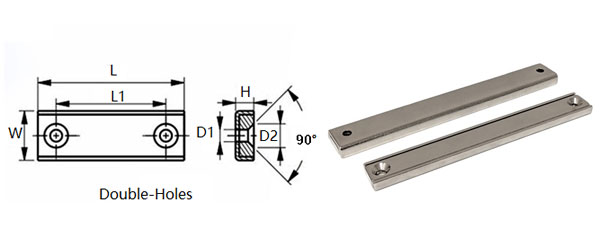 | | | | | | | | |
| --- | --- | --- | --- | --- | --- | --- | --- |
| Item Code | L(mm) | L1(mm) | W(mm) | H(mm) | D1(mm) | D2(mm) | Force(KG) |
| NEOCM-40 | 40 | 30 | 13.5 | 5 | 3.3 | 6.5 | 17 |
| NEOCM-50 | 50 | 40 | 13.5 | 5 | 3.3 | 6.5 | 27 |
| NEOCM-60 | 60 | 50 | 13.5 | 5 | 3.3 | 6.5 | 30 |
| NEOCM-80 | 80 | 70 | 13.5 | 5 | 3.3 | 6.5 | 33 |
| NEOCM-100 | 100 | 90 | 13.5 | 5 | 3.3 | 6.5 | 36 |
| NEOCM-120 | 120 | 110 | 13.5 | 5 | 3.3 | 6.5 | 40 |
The size table of ferrite channel magnets/Ceramic channel magnets/Ferrite magnet channels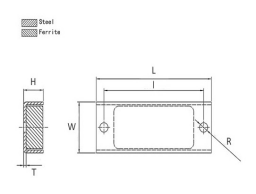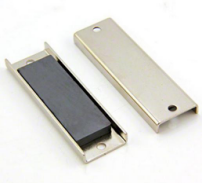 | | | | | | |
| --- | --- | --- | --- | --- | --- |
| Part No. | L(mm) | W(mm) | H(mm) | Dimensions (inch) | Pull Force(LBS.) |
| FCM-01 | 203.2 | 26.7 | 11.5 | 8.00″ x 1.050″ x 0.455″ | 60 |
| FCM-02 | 152.4 | 38.1 | 12.1 | 6.00″ x 1.500″ x 0.475″ | 100 |
| FCM-03 | 304.8 | 43.7 | 15.7 | 12.00″ x 1.720″ x 0.620″ | 150 |
| FCM-04 | 304.8 | 38.1 | 11.6 | 12.00″ x 1.500″ x 0.455″ | 110 |
| FCM-05 | 375.9 | 34.9 | 15.9 | 14.80″ x 1.375″ x 0.625″ | 175 |
| FCM-06 | 666.8 | 31.8 | 14.3 | 26.250″x 1.250″ x 0.562″ | 325 |
| FCM-07 | 76 | 31.8 | 12.7 | 3.000″ x 1.250″ x 0.500″ | 30 |