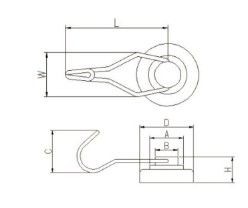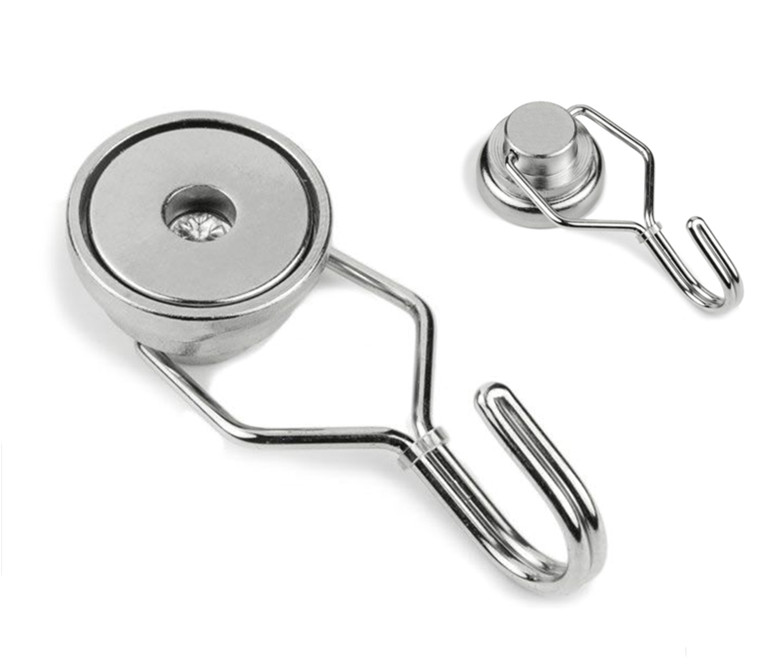 Model

D

A

B

C

H

L

W

Vertical Force

(Kgs)

Side Force

(Kgs)




Weight(g)

RMH25

25

20

13.5

24

15.5

55

23

14

3.5

38

RMH32

32

20

13.5

24

15.5

55

23

23

5.5

52

RMH36
36
20
13.5
24
15.5
55
23
40
6.5
65
RMH40

40
20
13.5
24
15.5
55
23
50
7
84
RMH42
42
20
13.5
24
16.5
55
23
65
8
92
Reversible magnetic hooks also called as magnetic reversible hooks.They are assemblied with high quality a3 steel and neodymium magnet.
The reversible magnetic hooks are composed of steel shell and neodymium magnets. This design can be used for both horizontal surface and vertical surface. They are ceiling magnetic hooks when used on the horizontal surface.This hook design is reversible, what's why they called reversible magnetic hooks.Their rotating hook hangs below the magnet assembly, allowing them to hang all kinds of objects on vertical metal surfaces. Every magnetic hook contains a ring neodymium magnet, making them an excellent option for hanging jackets, keys or even small bags in a filing cabinet, refrigerator or other steel surfaces.Compared with plastic magnetic hooks, this reversible magnetic hooks used to hang heavier object.
Besides of the magnets used for magnetic hooks, the hanging ability also depends on the material of the surface where the magnetic hooks attracted onto, also depends very much on the friction of the two surface. So that, it difficult to predict the magnetic force on any magnetic hooks.We just provide some reference holding force value in the table.