Search magnets are made by assembling disc neodymium magnets into steel cups with special glue,then assembled with eye bolts.The steel cups guide the outer magnetic line of the magnet to the contact surface of the magnets,then extremely strengthen the magnetic force of the contact surface of the search magnets.Meantime,the steel cup also protect the inside neodymium magnet from damaging.Search magnets can be used to salvage ferro-magnetic objects from deep water,cave or anywhere you can not get them by hand.So that search magnets also known as fishing magnets and salvage magnets.

We have single side search magnets and double sides search magnet for sale.Both of the search magnets can be assembled with disc neodymium magnets and ring neodymium magnets.On this page,we just detailed introduce single side search magnet assembled with disc neodymium magnets.It is made by assembled eye bolt on external thread pot magnet.
Characteristics Of Search Magnets:
1. Search magnets have extreme strong holding force,the max breakaway force of the biggest search magnets is up to 600kgs.
2. All magnetic line of the disc magnet are concentrated on the working surface of the search magnet,there are almost no magnetic force on other surfaces of the search magnet.
3. Each search magnet is assembled with a strong eye bolt.
4. The inside disc magnet is made from strongest magnetic material.
Summary Of Technical Information:
1. composition: steel cup with external screw thread,NdFeB disc magnet and steel eye bolt.
2. magnetized direction: magnetized through thickness
3. plating of surface: nickel for magnet part, zinc or nickel for steel parts.
4. color of glue: black,white,red
Parameter Of Single-Side Search Magnets Assembled With Disc Magnets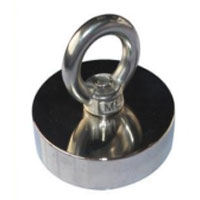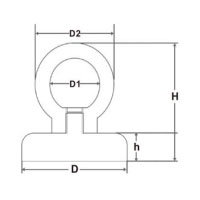 Item Code

Dimension(mm)

Weight(g)

Magnetic Force(kgs)




D

D1

D2

h

H







SSMD-D25

25

15

21

8

31

35

14

SSMD-D32

32

18

26

8

31

51

25

SSMD-D36

36

18

26

9

38

67

19

SSMD-D42

42

21

34

9

38

97

37

SSMD-D48

48

21

34

11.5

45.5

172

68

SSMD-D60

60

21

34

15

49

317

112

SSMD-D75

75

26

40

18

60

603

162

SSMD-D80

80

25

40

18

60

800

250

SSMD-D90

90

30

49

18

68

1000

300

SSMD-D100

100

30

49

18

68

1200

400

SSMD-D120

120

34

57

18

75

1800

500

SSMD-D136

136

28

49

28

95

2500

600