The flat ferrite pot magnet are assembled with a ring shape ceramic magnet and steel cup with a female threaded socket in the middle. NdFeB ring magnet can be adopted for stronger magnetic strength.
Ferrite pot magnets(ferrite cup magnets) include various designs which provide different solutions .This is a type of flat pot magnets of hard ferrite,which is made with an internal(female) threaded hole in the center. With the through threaded holes,the fastener is not in direct contact with the magnet,the magnet will not be damaged due to excessive force.And offer convenience for using,you can fix it just with a screw.
The iron shell not only protects the magnet, but also guides the magnetic line of force of the magnet to one side, which greatly increases the magnetic force.House with steel shell,the flat pot magnet is stronger and more durable.
The flat ferrite pot magnets with internal(female) threaded hole can be used for clamping of ceiling, fixing signs, banners, and for mounting of fixtures and lighting exhibition equipment.Strong flat ferrite pot magnets with internal threaded hole can be used for magnet fishing.
We provide some selection on size and magnetic force for the flat pot(cup) magnets of ferrite with internal threaded through hole,if there is no one can be used for you, then please contact us for customizing flat ferrite pot magnets with internal threaded hole,or choose our flat pot magnets of neodymium.
Parameters of standard common flat ferrite pot magnets with internal(female)threaded hole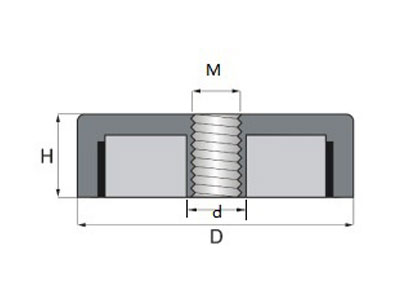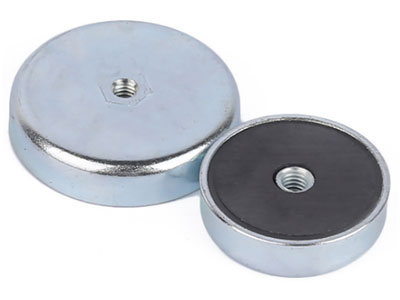 Item Code

Dimension

Pull Force(N)

D(mm)

H(mm)

d(mm)

M(mm)

Ferrite-H-25

25

7

5.2

M4

36

Ferrite-H-32

32

7

5.2

M4

75

Ferrite-H-40

40

8

9.5

M5

90

Ferrite-H-50

50

10

12

M6/M8

170

Ferrite-H-63

63

14

13

M8

350

Ferrite-H-80

80

18

14.5

M8/M10

550

Ferrite-H-80-1

80

20

14.5

M8/M10

550
The magnetic pull force was measured on a 10 mm thick polished steel plate at room temperature. In special cases, the maximum deviation may be - 10%. Generally, it usually exceeds the value. Small scratches and breakage in the magnetic material do not affect the pull force of the whole ferrite cup magnet. Depending on the type of application (installation, temperature, thickness of the object being sucked), the pull force is greatly affected. The tension value is only for reference, not as a standard to measure the quality of the ferrite pot magnets.
In addition to standard sizes, we also offer custom solutions for flat ferrite cup magnets with internal(female) threaded through hole.