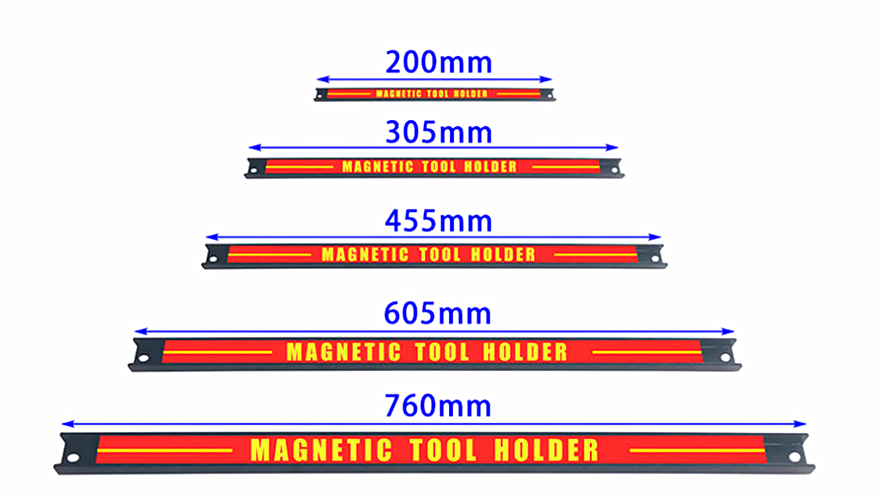 Magnetic tool holder a are very practical magnetic product, it is made of carbon steel housing and neodymium strong magnets,its magnetism are permanent and never demagnetized.Because of the bar/strip shape, it also known as magnetic tool bars or magnetic tool strips.
Magnetic tool holders are fixed onto walls to absorb metal tools,especially often used tools,convenient for taking and tiding.
The magnetic tool holders are good helper in car repair shop and any other machine repair workshop,even if for household.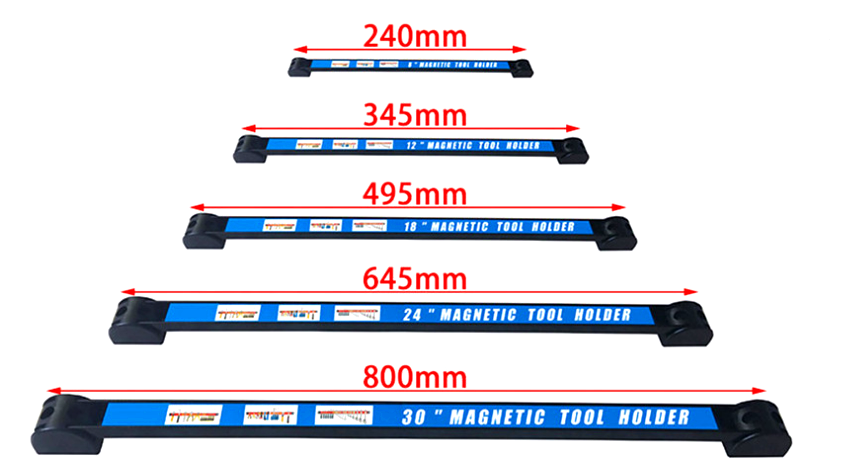 Single piece magnetic tool holder has maximum of 15 kgs holding force for single adsorbed object,that is enough for any single tools.To hold more heavier tool,several magnetic tool strips can be used together.
Attention:the maximum holding force decided by the contact area,the larger contact area,the stronger holding force.
The features of our magnetic tool holders(magnetic tool bars):
1, We can supply magnetic tool holder with all size,8"in length,12"in length, 18"in length, 24"in length and 30" in length.It can meet different needs.
2,To make the installing convenient,self-tapping screws and plastic bottom seat for the two ends of the magnetic tool holder can be provided.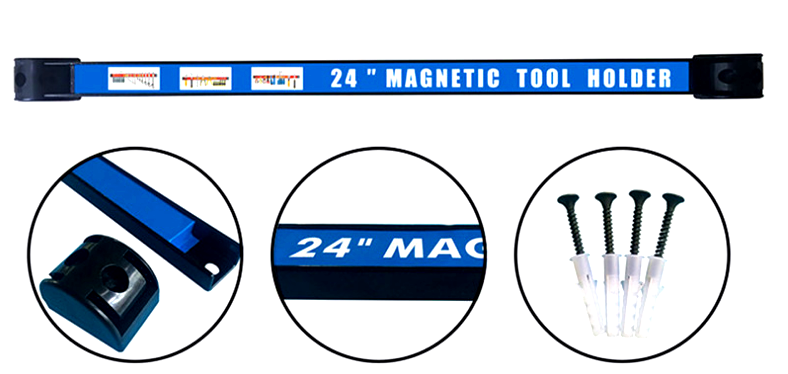 3,To protect the magnet of magnetic tool holder,the steel housing is a bit higher than the magnets.So as to avoid crash magnets when adsorb heavy tools.

Magnetic tool holders are one of the best way to store the metal tool in repair shop.Owning a good collection of tools is a fundamental part of every repair shop. Of course a good set of repair tools doesn't come cheap, so storing them properly is important to keep their lifespan. Many people store their tools in a drawer or in a tools block, however, these tool storage solutions have certain drawbacks that turn them into not the most desirable way for keeping your tool. On the other hand, these drawbacks of blocks and drawers are exactly the good points that a magnetic tool holder has.
A magnetic tool holder doesn't take valuable space of your repair shop, like a normal tool block takes. This is a fundamental advantage of magnetic tool holders, especially if the repair shop is a small one.
It is a convenient way to store your tool. The tools are easy to retrieve if they are stored with a magnetic tool holder and you don't have to guess where the tools are because they are in display, ready to use.
The edge of the tool will hold longer with a magnetic tool holder. If you store your tools in a drawer, the constant touching of the tools will dull your tools very quickly. A magnetic tool holder doesn't have this problem because the tools don't touch each other on a magnetic tool bar.
Using a magnetic tool holder is extremely safe. On one hand, you will not have the risk hurting yourself while rummaging into a drawer. On the other hand because you can fix the magnetic tool bar high, it is less likely that a kid could reach the tools.
As you can see, using a magnetic tool holder or magnetic tool strip is the best way to properly store your kinds of tools. It is cheap, convenient and safe,and is necessary for your workshop.