Rubber coated neodymium base magnets are know as strong magnetic mounting base, they are widely used to mount light/lamp onto the top of vehicle, we can supply magnetic lamp holder. We know rubber coated/covered neodymium base magnets are widely used on magnetic lamp holder. Why choose rubber coated neodymium base magnets for magnetic lamp holder? There ara these main reasons: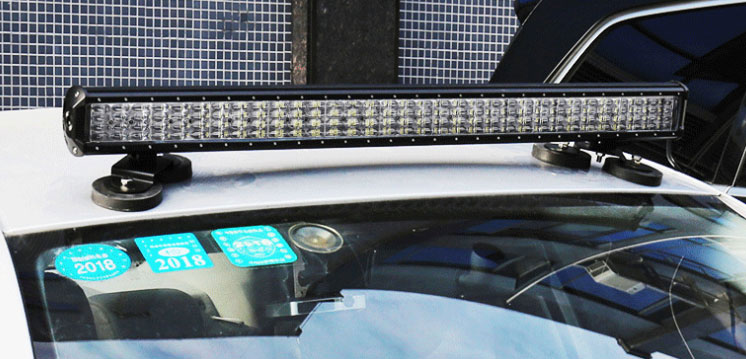 1. Strongest magnetic force, neodymium rare earth magnets are the strongest magnetic material.The magnetic lamp holder that made of neodymium magnet base can provide maximum magnetic holding force,and work as strong connections between vehicle and LED light/lamp bar.
2. Scratch protection, the soft rubber cover of the base magnets helps prevent scratching the surface of vehicle.
3. Easy to mount, just mount the LED lamp on the rubber coated neodymium magnetic base with screws,then put it on the body of vehicle.
4. Reusable, because it's easy to install and remove, the same rubber coated magnetic light/lamp holder can be used in anywhere, such as car, truck and vessel...
We can supply whole magnetic mounting holder system/magnetic mounting brackets system/magnetic mounting support system(which include hardwares). The are common assembled with the rubber coated neodymium base magnets with diameter of 66mm and 88mm. Look the standard magnetic lamp holder system as below:
| | |
| --- | --- |
| | |
| | |
| Magnetic Mounting Holder-A | Magnetic Mounting Holder-B |
| | |
| Magnetic Mounting Holder-C | Magnetic Mounting Holder-D |
Besides used for magnetic light/lamp bar mounting,rubber coated neodymium base magnets can be also used as magnetic work light base in warehouse, and used as magnetic license plate holder, or used as magnetic mounting support for other objects.
General specifications of the dimension for all types of magnetic mounting holders/magnetic mounting brackets: