Magnet fishing is to throw a strong magnet (usually neodymium magnet) into a water source, such as a lake, river or well, to salvage ferromagnetic objects.
Strong magnets are needed for magnets fishing:The magnet fishing need to use a strong magnet. It's best to use the strongest magnet and carry a safe rope with you. Keep in mind that only when the metal object is completely attracted on the magnet, can the pull force of the magnet reach the maximum value. However, in the process of magnet fishing, it is difficult to achieve plane contact, because objects fell on the bottom for a long time are easy to accumulate debris (soil, vegetation, rust, algae, etc.), and metal objects themselves are irregular shapes, that is why a very strong magnet is needed for magnets fishing.
Neodymium magnets are the best magnets for magnets fishing:The best magnets used for magnet fishing are neodymium magnets,because they have the advantage of having strong magnetic force on small size. Neodymium magnet is a rare earth magnet, which is considered to be the most powerful magnet so far. As a matter of note, please be very careful when using neodymium magnets for magnet fishing, as they are very powerful, may cause injury and may damage electronic equipment. Never try to put two neodymium fishing magnets together, as they may break apart due to external force.
Wide selection range for size and force of neodymium magnets for magnet fishing: we provide various sizes & magnetic force selection of neodymium magnets for fishing. The largest neodymium fishing magnets for this type is 120mm in diameter,and the magnetic strength is near 500kgs. There are other types of neodymium fishing magnets available for choosing.
What we can do on neodymium magnets for fishing?
We can deliver neodymium fishing magnets with individual packaging,which suitable for retail.We can also offer the rope for it from us,even if all magnet fishing accessories.
Parameter of neodymium magnets for magnet fishing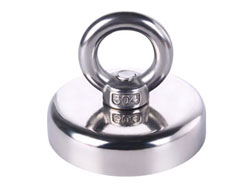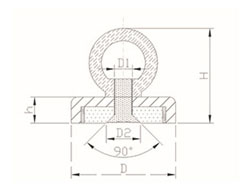 Item Code

Dimension(mm)

Magnetic Force(kgs)

Weight(g)

D

D1

D2

h

H

PM-R-D20

20

4.5

8.6

7

26

6

19

PM-R-D25

25

5.5

10.5

8

31

14

35

PM-R-D32

32

5.5

10.5

8

31

25

51

PM-R-D36

36

6.5

12

9

38

29

67

PM-R-D42

42

6.5

12

9

38

37

97

PM-R-D48

48

8.5

16

11.5

45.5

68

172

PM-R-D55

55

8.5

16

11.5

45.5

102

270

PM-R-D60

60

8.5

16

15

49

112

317

PM-R-D65

65

8.5

16

15

49

130

425

PM-R-D70

70

10.5

19

18

60

148

570

PM-R-D75

75

10.5

19

18

60

162

603

PM-R-D80

80

10.5

21

18

67

250

820

PM-R-D90

90

10.5

21

18

67

340

900

PM-R-D100

100

12.5

25

18

70

380

1120

PM-R-D110

110

12.5

25

18

70

420

1310

PM-R-D120

120

12.5

25

18

73

480

1510