Pot magnet is a kind of magnet assembly which has strong magnetic force,and used as magnetic holder.Neodymium pot magnets made by assembling neodymium magnets into steel cups with special glue or plastic ring.The steel cups guide the outer magnetic line to the contact surface of the magnet,then extremely strengthen the magnetic force of the contact surface of the neodymium pot magnet.Meantime,the steel cup also protect the inside neodymium magnet from damaging.Neodymium pot magnets have much stronger force than ferrite pot magnets.According to various use needs,neodymium pot magnets can be assembled with hook or ring.And the inside neodymium magnet can be disc or ring shape.Pot magnet with eyelet  made by assembling a closed hook on the internal thread pot magnet.It also called pot magnet with closed hook.With a rope,pot magnet with eyelet can be used as deep water salvage magnet.
The steel cup of the pot magnets with eyelet can be made by lathing or punching.We have both of the two kinds of pot magnets with closed hook for sale.The pot magnets with eyelet on this page are made by punching,and assembled with disc neodymium magnet.
As a professional pot magnets supplier,we have full standard sizes for neodymium pot magnets with eyelet(or neodymium pot magnets with closed hook).The maximum magnetic force of the standard neodymium pot magnets with closed hook is close to 200kgs.Each delivered pot magnets with eyelet has nice appearance.
Characteristics of pot magnet with closed hook(pot magnet with eyelet):
1. Neodymium pot magnet with closed hook has extreme strong holding force,the maximum breakaway force of the largest one is up to 190kgs.
2. All magnetic line of the disc neodymium magnet are concentrated on the working surfaces of the eyelet pot magnet,there are almost no magnetic force on other surfaces of the pot magnet.
3. Each eyelet pot magnet is assembled with a strong closed hook.
4. The inside disc neodymium magnet is commonly with nickel coating,and with the grade of N35.
Summary of technical information for pot magnet with eyelet(pot magnet with closed hook ):
1. composition: internal thread pot magnet and closed hook.
2. magnetized direction: magnetized through thickness
3. plating of surface: nickel for magnet part, zinc or nickel for steel cup and closed hook.
4. color of glue: black,white
Size/ parameter For pot magnet with closed hook(eyelet pot magnet)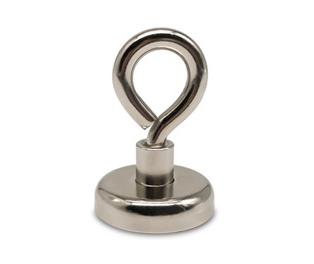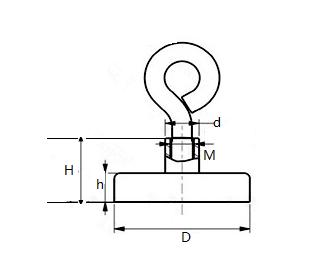 | | | | | | | | |
| --- | --- | --- | --- | --- | --- | --- | --- |
| Item Code | D(mm) | h(mm) | H(mm) | d(mm) | M | Weight(g) | Magnetic Force(Kg) |
| PM-E-D16 | 16 | 5 | 13 | 6 | M4 | 12 | 5.5 |
| PM-E-D20 | 20 | 7 | 15 | 8 | M4 | 21 | 9 |
| PM-E-D25 | 25 | 8 | 17 | 10 | M5 | 33 | 22 |
| PM-E-D32 | 32 | 8 | 18 | 10 | M6 | 53 | 34 |
| PM-E-D36 | 36 | 8 | 18 | 10 | M6 | 65 | 41 |
| PM-E-D42 | 42 | 9 | 20 | 12 | M8 | 91 | 68 |
| PM-E-D48 | 48 | 11.5 | 24 | 12 | M8 | 146 | 81 |
| PM-E-D60 | 60 | 15 | 30 | 14 | M8 | 315 | 113 |
| PM-E-D75 | 75 | 18 | 34 | 16 | M10 | 625 | 164 |