Ferrite pot magnets/Ferrite holding magnets/Ferrite magnetic base/ Ceramic magnetic holder/Ferrite pot magnets with countersunk hole
On this page, we show one type of ferrite pot magnets, they are ferrite holding magnets in which there is a countersunk hole in the center. The products are assembled with countersunk ferrite magnets and steel cups.  The countersunk ring ferrite magnets are fixed into flat round steel cups by glue. The countersunk hole of the whole magnetic system is designed for the screw.The steel cups protect the ferrite magnet rings and prevent the ring magnets from damage. With the steel covered, the magnetic force of the ferrite ring magnets inside is more powerful. After covered by steel cups, there is only one magnetic pole on the ferrite pot magnets.Because of this, it called single pole magnet.
Compared with neodymium pot magnets, the magnetic strength of ferrite pot magnets is much weaker. But because of the lower cost, it was more when used to hold light objects. Reasonable choosing one type pot magnets can save cost for you.
This kind of ferrite pot magnets are also known as ferrite countersunk pot magnets and are mostly used as magnetic bases or magnetic holder. For example, they can be used as magnetic flashlight holder, magnetic tools holder.
The ferrite pot magnets or ferrite holding magnets made by meank magnetics can be found anywhere today. The magnetic products can be used for exhibition and display. Also used on the wall and roof to hold metal objects.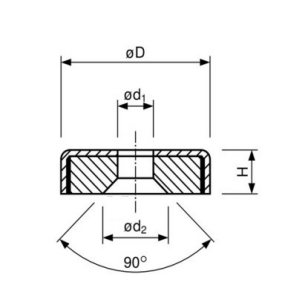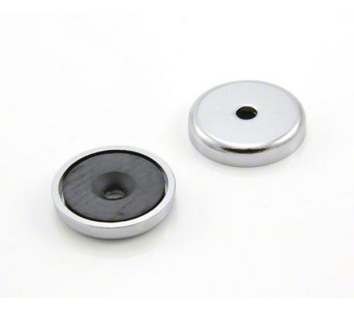 Size table of ferrite countersunk pot magnets:
| | | | | | | |
| --- | --- | --- | --- | --- | --- | --- |
| Items Code | D(mm) | H(mm) | d1(mm) | d2(mm) | Force(N) | Weight(g) |
| POTAFD16 | 16+0.1/-0.1 | 4.5+0.2/-0.1 | 3.5+0.2/-0.2 | 6.5+1.5/0 | 14 | 4 |
| POTAFD20 | 20+0.1/-0.1 | 6+0.2/-0.1 | 4.1+0.4/-0.4 | 9.4+1/0 | 27 | 9 |
| POTAFD25 | 25+0.1/-0.1 | 7+0.3/-0.2 | 5.5+0.2/-0.2 | 11.5+1/0 | 36 | 17 |
| POTAFD32 | 32+0.1/-0.1 | 7+0.3/-0.2 | 5.5+0.25/-0.25 | 11.5+1/0 | 72 | 27 |
| POTAFD40 | 40+0.1/-0.1 | 8+0.4/-0.2 | 5.5+0.2/-0.2 | 11.5+1/0 | 90 | 52 |
| POTAFD50 | 50+0.1/-0.1 | 10+0.4/-0.2 | 6.5+0.2/-0.2 | 12+1/0 | 162 | 90 |
| POTAFD63 | 63+0.1/-0.1 | 14+0.4/-0.2 | 6.5+0.2/-0.2 | 12+1/0 | 261 | 195 |